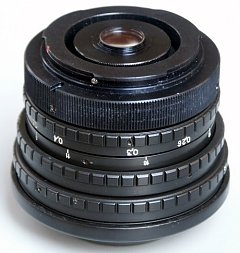 In summer 2004, East Wave Products Inc. developed a unique technology to adapt the Peleng Fisheye lens to different types of cameras without using adapters. We now offer the Peleng lens with dedicated mounts for the following cameras:
- Canon EOS
- Nikon
- Pentax M42
- Minolta MD
- Minolta AF
- ARRI PL movie camera
- Konvas movie camera
- Pentax K
- Olympus OM
- Fuji Fine Pix
- Ricoh
- Kodak

The Peleng lens with the Olympus new 4/3 (four thirds) mount were introduced to the market in the spring of 2006.

We are also planning to introduce the Peleng lens with dedicated XL mount later this year.
Please note:
You may still use our adapters to mount the Peleng lens on all types of cameras.